Why do sandwiches always taste better when you don't have to make them yourself? It's practically science. Maybe it's nostalgia for school days when someone picked your lunchbox for you? Whatever the reason, Kenosha Area restaurants are brilliant scientists when it comes to perfectly preparing sandwiches. Here are some of my favorite stops for the perfect bite!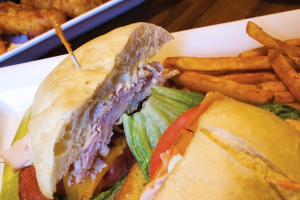 The Yacht Club
A long-time favorite on the menu at Boat House Pub & Eatery is The Yacht Club! Sliced turkey, crisp bacon, Wisconsin cheddar, and a smear of mayo, accompany lettuce and tomato on Rustic panini bread for this sandwich staple.
The Bristol 45 Wrap
Sometimes the best sandwiches come wrapped in tortillas. At Bristol 45 Diner, the sandwich delicious enough to carry the restaurant's name features Crispy Chicken, Lettuce, Tomato, Ranch, and Cheddar Cheese.
The Bacon & Egg Bagel
Sandwiches are great for breakfast, too. The Buzz Cafe specializes in panini grilled sandwiches throughout the day. If you're craving a standard bacon, egg, and cheese bagel, you'll want to head to The Buzz! The avocado aioli really makes this one!
The Chicken Cordon Bleu
At Century Pub & Eatery, you'll find a menu that offers a bit of everything from meatloaf and tacos to salads and wraps. The Chicken Cordon Bleu Panini is among the favorites featuring chicken, ham, and Swiss cheese!
The Spam Sandwich
In true diner style, Franks' Diner offers an old-school Spam Sandwich on their lunch menu. Thick-sliced Spam, lettuce, tomato, Spam, onion, mayo, and SPAM on toasted bread make for a giant sandwich that hits all the right taste buds!
The Reuben
Pay a visit to Kenosha's German-American restaurant, House of Gerhard, for their Famous Reuben. Enjoy house-roasted corned beef piled high, with melted Swiss cheese, sauerkraut, and 1000 island on toasted marble rye.
Carne Asada Tortas
I'm willing to bet that you didn't know Iguana Wana had sandwiches. This traditional Mexican-style sandwich is prepared with skirt steak, refried beans, avocado, sour cream, lettuce, and tomatoes on a crusty roll. If you've never had a Torta, this is the one you'll want to try!
The Original Italian
Nothing says Jersey Mike's more than the Original Italian.  A truly authentic Jersey-style Italian sub, it's crafted with provolone, ham, prosciuttini, cappacuolo, salami, and pepperoni. Order it "Mike's Way" with juices and seasonings for the ultimate sub sandwich.
Chicken Parm a la Johnny
Known for delicious chicken, it's no surprise that Johnny'Z Pour House serves up a tasty chicken sandwich. Parmesan breadcrumb chicken breast, deep-fried & smothered in house-made marinara sauce, melted mozzarella on top, and stuffed on a toasted brioche bun - is the Johnny's way!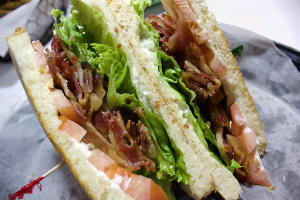 The BLT Classic
Kaiser's might be famous for pizza, but the sandwiches are out of this world. The BLT is a favorite - with plenty of crispy Applewood Smoked Bacon, Lettuce, Tomato & Mayo on toasted bread. You can also make this sandwich a wrap!
The Portabella Melt
A whole portabella cap stuffed with green peppers, onions, and tomatoes, then topped with a fig balsamic glaze and mozzarella cheese is a perfect choice for anyone at Kenosha Brewing Co. The flavor profiles pair perfectly with many of the microbrews on tap!
The Fogata Steak Wrap
All the great flavors of traditional Mexican cuisine are combined with some modern twists in this signature wrap at La Fogata Mexican Grill. Made with grilled aged skirt steak, bacon, corn, black beans, chihuahua cheese, guacamole, lettuce, pico de gallo, frito lays chips, and habanero chipotle ranch. I recommend trying it with the spicy fries.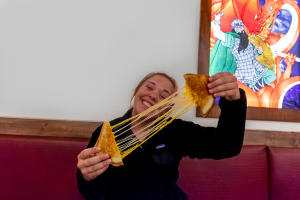 The Grilled Cheese
Mars Cheese Castle is obviously the best place for a grilled cheese sandwich. Here you select your cheese and your bread to make your perfect version of this gooey delight. Try it with the Famous Cheese Curds for the really cheesy effect!
The Monte Cristo
Sweet and Savory. The Monte Cristo is Mason's Signature Item. It boasts two pieces of homemade French toast, thinly sliced ham, turkey, melted Swiss and cheddar topped with powdered sugar and a side of Melba sauce.
The Italian Bomber
Kenosha's Italian heritage is evident at Slip 56. Their pasta dishes, pizzas, and other specialty dishes are incredible. The Italian Bomber has homemade Italian Sausage topped with mozzarella cheese and homemade marinara sauce. Mangia!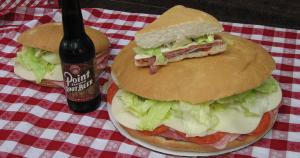 The Muffo-Lotta
Tenuta's Delicatessen is famous for a variety of reasons - but the Muffo-Lotta sandwiches are probably #1. Available by the slice, or in various sized full rounds, this is a sandwich for a serious appetite. Layers of pepperoni, genoa salami, mortadella, ham, provolone, mild peppers, lettuce, and Italian dressing taste as good as this Italian Market smells!
The Egg Salad
A restaurant that specializes in breakfast ought to know about eggs, right? The Coffee Pot serves up a delicious homemade egg salad sandwich on homemade toast! It's totally a comfort food.
The French Toast Panini
The Daily Dose Cafe has some of the best sandwiches around. Their Ham Perfection and Awesome Beef are popular lunch options. But the French toast panini is a breakfast gem! Served between two slices of French toast, fresh scrambled eggs, American cheese, bacon, syrup, cinnamon, and powdered sugar make this a sweet and savory delight.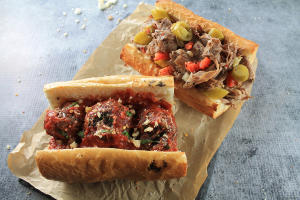 The Meatball Bomber
You may be familiar with Valeo's pizza choices, but the homemade meatballs are on point too! The bombers feature a generous helping of meatballs and homemade pasta sauce on top of fresh Italian buns.
The Kickin' Chicken
Waterfront Warehouse has an expansive menu. If you're not feeling a flatbread or loaded fries, check out the sandwich selection. The Kickin Chicken is a breaded chicken breast topped with pepper jack cheese, thick-cut cherrywood smoked bacon, onion straws, guacamole, tomato and drizzled with homemade habanero chipotle ranch and served on a ciabatta roll with pepper mayo and minced red onion.
There you have it. Fabulous sandwich options right here in Kenosha. That's not even counting all the awesome burgers! Where will you start your tasting tour?