Boating & Fishing
How To Get On The Water:
There are two marinas at Lake Michigan – Southport Marina and Simmons Island Marina – with transient boat slips available. 
There's a public launch site at Simmons Island Marina.
Bring your own kayak, canoe, or other watercraft to travel on the Lake Michigan Water Trail or Fox River Water Trail.
Sailing lessons, charters, and excursions are available.
The Kenosha Community Sailing Center at the Kenosha Yacht Club seasonally offer rentals of kayaks, fishing kayaks, stand up paddle boards, and duck-themed pedal boats on select days of the week to use in the harbor.  
Fishing Tips: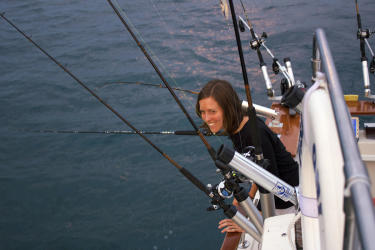 There is a good reason for Kenosha being known as the trout and salmon capital of Wisconsin. The waters of Lake Michigan offer some of the best sport fishing in the Midwest and Kenosha boasts the highest catch-per-hour rate in the state. Off our shore, Lake and Brown Trout, King and Coho Salmon, as well as a few other varieties of catch can be expected.
Ready to cast a line? Bring your own boat to fish (there's a boat launch and self-serve fish cleaning station at Simmons Island Marina) and set your own schedule. Or book a fishing excursion with the Kenosha Charter Boat Association, where all equipment will be provided and the crew will help you every step of the way. The captains will clean your catch and bag your filets to take home.
Shore fishing is available year-round on Lake Michigan, as well. There are many great spots to take advantage of, including the piers at Simmons Island Marina and around the Harbor. 
Western Kenosha County offers calm waters of inland lakes – to fish from the shore or your boat. The lakes are known for their abundance and variety of Largemouth Bass, Northern Pike, Walleye, and Musky. Among the most popular fishing lakes are the 500-plus acre Silver Lake, and Lake Mary and Lake Elizabeth, known as the "Twin Lakes." Powers Lake is also a favorite all-season fishing lake, with more than 450 acres of clear water and pristine ice conditions in winter.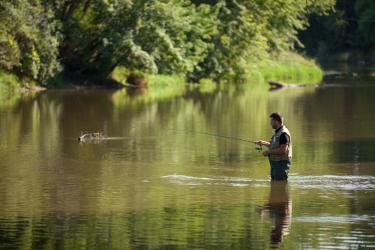 The Fox River in western Kenosha County is another popular fishing spot. Common catches on the Fox River include Walleye, Channel Catfish, Northern Pike, White Bass, and Carp. Early spring and late fall offer the best chance for White Bass and Walleye.
Fishing with kids? The ponds at Anderson Park and Poerio Park & Nature Center are great places for families to get started at, as is Wolf Lake at Richard Bong State Recreation Area – where there's an accessible fishing pier. Smaller fish can be expected in these areas, such as Bluegill and Crappie. 
Did You Know?
The first-time buyer license is available to those who haven't fished in Wisconsin before or want to return to fishing after some time away. 
A one-day fishing license is available.
Free Fishing Weekends are always held the third full weekend in January and the first full weekend in June. 
Need a Fishing License or additional information? Contact the Wisconsin Department of Natural Resources.