Tourism Week
Each May, seven days are designated as National Travel and Tourism Week (NTTW) by the U.S. Travel Association. It's an annual celebration of the U.S. travel industry's contributions. Tourism plays a significant role when it comes to our community's economy. Tourism provides jobs, lowers personal taxes, improves our local economy, and provides a positive community image, which is critical for economic development. Watch for the 2021 economic impact numbers to be released in June.
Jump to:
About Tourism Week 2022 | Plan Your Vacation | Be A Tourist In Your Own Town | Tourism Week Free Days
About Tourism Week 2022
In 2022, the week will be recognized Sunday, May 1 through Saturday, May 7. Nationally, the week will spotlight the critical role that travel will play in driving economic growth and building the path forward through the theme Future of Travel. This year's theme elevates how the travel industry can restore the workforce, help communities recover, foster sustainability, usher in new innovations, and reconnect travelers in the U.S. and around the world. (Learn more at ustravel.org/NTTW)
Plan Your Vacation
If you live outside of Kenosha County, we hope to see you in Kenosha this year – whether for a dinner, marathon, car show, charter fishing excursion, or weekend getaway. Kenosha is a Wisconsin Harbor Town … a Midwest road trip waiting to happen!
Friendly. Affordable. Fun.
Let us help you find your #KenoshaFun. We have been Kenosha's official travel resource since 1986 and we invite you to use our tools – including the 2022 Official Kenosha Area Visitors Guide and our website VisitKenosha.com.
View Digital Guide HERE>
Order Print Guide HERE>
Have a question? Submit a Contact Us Form HERE>
Call us at (262) 654-7307
Stop at a Visitor Information Center>
Be A Tourist In Your Own Town
If you live in Kenosha County, we encourage you to Shop Local, Dine Local, and Play Local during this week – and all year round! The same things that visitors love about our community, residents love as well. We thank you for your loyalty in supporting our small, independent, locally owned shops and restaurants who contribute to the local community and economy. These businesses are often family-owned, some for multiple generations. We thank you for frequenting our incredible museums, art galleries, recreation spots, and other attractions as well.
While we promote the Kenosha Area as a fun, friendly, and affordable overnight tourism destination to individuals, groups, and businesses throughout the world – we are also a resource for the community. We encourage everyone to use our website VisitKenosha.com (you're on it!) and the 2022 Official Kenosha Area Visitors Guide to find your #KenoshaFun. The only publication of its kind in the community, this is the largest visitors guide printed by our organization to date, with more than 100 pages of useful information, itineraries, travel planning tips, maps, and details about Kenosha fun.
Did you know the #1 referral source for visitors to the Kenosha Area is family and friends? Let us all be great Kenosha ambassadors!
Don't miss an event! Bookmark the Visit Kenosha Events Calendar and browse often!
Stay on top of what's happening by signing up for our Visit Kenosha Monthly Newsletter and/or the weekly EventSource newsletter HERE>
Help us show off the Kenosha Area! Enter pics of your favorite places and spaces to our annual Picture Your Kenosha Photo Contest HERE>
Grab one of our I Heart Kenosha frames to add to the fun of your photography. DETAILS>
Tourism Week Free Days - 2022
Visit Kenosha has partnered with local attractions, shops, and cafes to provide FREE admission and other freebies during this week. We encourage residents to "Be A Tourist In Your Own Town", while visitors can discover – and/or re-discover – the fun things there are to explore in the Kenosha Area as they take advantage of these free promotions. The offers are listed below.
Offers and hours subject to change.
Sunday, May 1: RIDE BACK IN TIME
Kenosha Electric Streetcar - Free Ride Day
Everyone rides free today!  Hop aboard one of the fleet's beautifully restored authentic electric streetcars for a scenic trip along the Lake Michigan shore as well as through historic districts and Downtown Kenosha. (Value $0.50 - $1.00)
Current Capacity: 15 passengers.
Sunday hours: 10:35 a.m. to 6:15 p.m.
Stops include the McCarthy Transit Center, 724 54th Street
Monday, May 2: for the dogs
Kenosha County Dog Parks - Free Single Day Admission
Bring your pup to any (or all) of the Kenosha County Dog Parks today and get free single-day admission. Parks include Carlisle Family Dog Park at Petrifying Springs Park, Harris Family Dog Park at Old Settlers Park, and Warren Close Bark Park at Kenosha County Veterans Memorial Park. Dogs must have current license/vaccinations. (Value $2 - $5)
Parks open 7 a.m. to 10 p.m.
Addresses:
Carlisle Family Dog Park, 5555 7th Street
Harris Family Dog Park, 24100 75th Street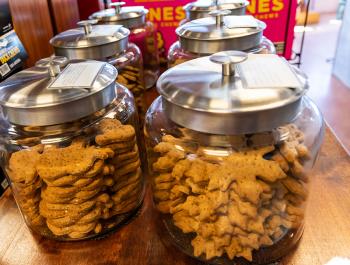 Warren Close Bark Park, 35610 89th Street
PLUS visit K9 Kibble for one Free Large Biscuit for your dog. (Value $0.75)
Did you know the shop offers free consultation services regarding food and other issues your dog may be having?
Monday hours: 12 to 6 p.m.
Address: 5919 Sheridan Road
Tuesday, May 3: see the elephant
The Civil War Museum - Free Main Exhibit Admission
All guests receive free admission to The Civil War Museum's main exhibit "The Fiery Trial", which is an immersive exhibit with a 360-degree film "Seeing The Elephant". The exhibit tells the inspiring and personal stories of the soldiers on the war front and family back home in the Midwest. The other areas of the museum are always free. (Value $5 - $9)
Hours: 10 a.m. to 4 p.m.
Address: 5400 1st Avenue
Wednesday, May 4: free coffee
Enjoy one free coffee at these three locations:
The Buzz Café - One Free Small Drip Coffee (cream and sugar available)
Hours: 7 a.m. to 10 p.m.
Address: 5621 6th Avenue
Harborside Common Grounds - One Free Large House Blend Coffee
Hours Offer Available: 7 a.m. to 11 a.m.
Address: 5159 6th Avenue
The Daily Dose Café - One Free 16 oz Coffee - hot or iced
Hours: 7 a.m. to 2 p.m.
Address: 6010 40th Avenue
(Value varies by location)
Thursday, May 5 - climb a lighthouse
Southport Lighthouse - Free Tower Climbs
Climb the 72 steps to the top of Kenosha's historic 1866 lighthouse and experience a one-of-a-kind view over Lake Michigan and Kenosha. On a clear day, you can even see the Chicago skyline! Must be 8 years or older to climb. It's always free for all ages to tour the maritime museum inside the keeper's house. The house and lighthouse make up the Southport Light Station Museum. This is the opening day of the year for the seasonal attraction. (Value $5 - $10)
Thursday hours: 10 a.m. to 4 p.m.
Address: 5117 4th Avenue on Simmons Island
Friday, May 6: explore nature
Pringle Nature Center at Bristol Woods Park - Free GPS and Explorer Backpack Rentals
Get outdoors and into nature at this 200-acre park and nature center! Check out a pre-programmed GPS unit to hunt for Geocaches in the park, or a family-friendly Explorer Backpack filled with all the tools you need for a fun exploration. First come-first serve. Driver's license or ID required to check out. (Value $5 each)
Hours: 10 a.m. to 3 p.m.
Address: 9800 160th Avenue
Saturday, May 7: sowing seeds
Feed & Seed - One Free Pack of Seeds
There are flowers, veggies, and herb packs to choose from. Available for any customer that will provide an email address to join the shop's email list. While supplies last. Owned and operated by Jerry Smith Produce & Pumpkin Farm, this shop covers your pet, wildlife, and lawn needs.
Hours: 8 a.m. to 4 p.m.
Address: 7115 38th Street
Find an array of locally-owned shops, boutiques, galleries and markets with an emphasis on the...