Sip & Stroll
Location: Downtown Kenosha
Saturday, June 24, 2023
It's time to Go Downtown Kenosha for the annual Sip & Stroll!
There's nothing better than walking around a beautiful harbor town and sipping spirits at participating locations!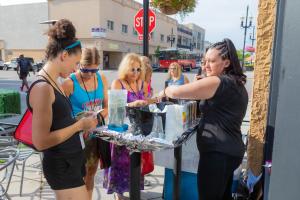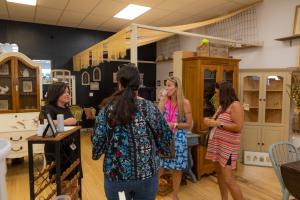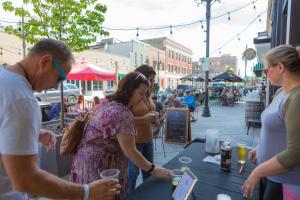 Participating Venues
Sample Selections will be announced soon.
Specials we're aware of are listed below.
58 Below, 504 58th Street. $5.00 Bloody Marys, $3.00 Hawaiian Mimosas, Buy one get one half price appetizers.
Bisou Lingerie, 635 58th Street. Bralette Sale! Buy 1, get 10% off. Buy 2, get 20% off. Buy 3 or more, get 30% off.
BLAK Coffee, 5615 7th Avenue. Special: Sampling Lightning Bolt Quenchers (made from coffee bean extract!).
Blue House Books, 5915 6th Avenue A. Sip & Stroll participants receive 15% off one item. Some exclusions apply. Ask Booksellers for details.
Canna Vita and Blend & Brew, 5700 6th Avenue
Gordon's Sports Bar & Grill, 5703 6th Avenue
Hold My Beer, 621 56th Street
Hot Mess Studios, 624 57th Street. Acrylic pour workshop, walk in splatter paint sessions.
House of Nutrition, 5824 6th Avenue. Live music, special sales, and vendors will give out free samples.
Jockey, 5500 6th Avenue. Non-alcoholic offering and candies. Goodie bag with coupon.
Lulu Birds, 5716 6th Avenue
Modern Apothecary, 5700 6th Avenue. $5 off over-the-counter purchases of $25 or more, or $15 off purchases of $50 or more.
Salon on Sixth, 5038 6th Avenue. Gift at door and 30% off all items in store.
Sandy's Popper, 5503 6th Avenue. Free popcorn sampling bar. Special $1.00 snack packs. Drawing for gift basket.
Southport Light Station Museum, 5117 4th Avenue. 10% off in the Gift Shop the day of the event (20% off for members of the Kenosha History Center).
Tavern on 6th, 5712 6th Avenue. Mimosa Flight - $20 includes a bottle of champagne and 3 choices of juice.
The 1844 Table & Mash at The Stella Hotel & Ballroom, 5706 8th Avenue. The special is a Vodka and Lemonade for $5. Bonus stop (4-5PM) at Crow's Nest Rooftop Bar at The Stella Hotel & Ballroom (special offer: their signature Brandy Sangria for $5).
The Teaching Kitchen, 5607 7th Avenue. In-house made samples of finger foods and smoked brisket. Non-alcoholic beverages; herbal infusions, water and tea will be available. Original art will be on display and available for purchase.
To & From Gift Shop, 5535 6th Avenue. 10% off and a raffle ticket with any purchase.
Trecroci Realty, 522 56th Street, Suite 101
Upper East, 622 58th Street
Questions? Call (262) 654-7307
Explore
What's Next to Lake Michigan
Find an array of locally-owned shops, boutiques, galleries and markets with an emphasis on the...