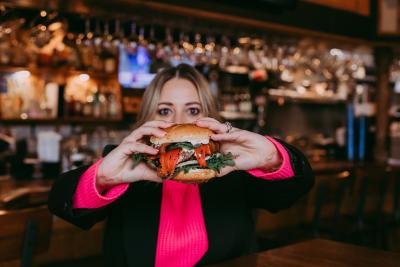 National Hamburger Day is May 28 and National Cheeseburger Day is September 18, but every day is a good day for a good burger or cheeseburger. Whether you are looking for a giant stuffed burger or a thin patty with all the trimmings, single or double, charbroiled or grilled, grass-fed, Kobe, or maybe even a veggie-variety, pink or no pink, with fries or onion rings… you're sure to find exactly the burger you want. Here's the beef on the burger scene!
* denotes vegetarian burger options available
Located in Downtown Kenosha: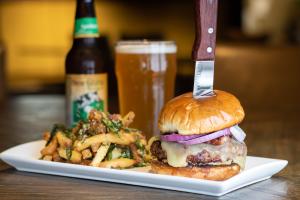 The 1844 Table & Mash — Located inside The Stella Hotel & Ballroom, The 1844 Table & Mash is a supper club style restaurant dedicated to the growth and success of the Kenosha community. The menu ranges from small plates and fish fry, to duck breast and glazed salmon.
Signature Burger — The Stella Burger is a Steak Burger, with Wisconsin's Neuske's Pork Belly, Aged White Cheddar, Onion Confit, and Garlic Aioli, served on a Brioche Bun.
Capt. Mike's Beer & Burger Bar* — If you love a good Gastropub, Captain Mike's is about as cool as they come. Offering a huge selection of beer and whiskey, the pub part is on point. But more than standard fried bar food is served up from the small kitchen – a complete offering of Mac and Cheese and hamburgers are what make Mike's famous. Build your own creations or check out the uniquely (and sometimes hysterical) named combinations.
Signature Burger — The Burger of the Week. The seasonal ingredients and playful combinations make the burger of the week a good choice any time.
Franks' Diner — This iconic diner is one of the most famous eateries in Wisconsin. Housed in a train car structure, the atmosphere is as fabulous as the food. Burgers, patty melts, and spam sandwiches are among the popular fare.
Signature Burger — Put a twist on your burger consumption with a Spam Sandwich! Thick sliced spam is topped with traditional fixings of lettuce, tomato, onion, and mayo on toasted bread. Choose your favorite side to go with it.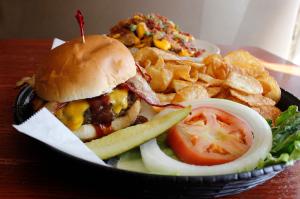 Kaiser's Pizza & Pub — Pizza isn't the only offering at this Kenosha hot spot! From awesome appetizers to satisfying salads, there is a full menu and a full bar to please guests.
Signature Burger — Sure you can build your own burger with a variety of topping choices, but the real star here is the Patty Melt! Made with a premium Angus Chuck patty, American cheese is melted into the meat, topped with buttery grilled onions, and served on rye toast.
Tavern on Sixth — If you're looking for a sports bar, look no further. Tavern on 6th has its own golf simulator in-house! The menu offers meatballs, flatbreads, sandwiches, and more – perfect for a hungry sports fan.
Signature Burger — Smash Burgers are the favorite at Tavern on 6th. You can build your own with any combination of toppings. Try yours topped with their famous grilled peppers and house-made chips on the side!
Located Outside of Downtown Kenosha: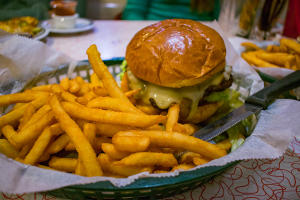 Bristol 45 Diner* — It's Throw Back Thursday every day at Bristol 45 Diner. This restaurant opened in 2008 but was designed to feel like a 1950s diner. While the menu is extensive, the burgers and milkshakes are the heart of the business. Keep your eyes peeled, you may see some classic cars while dining here!
Signature Burger — The Bristol 45 Bomb Burger is a 10 oz. charbroiled patty that is topped with BBQ sauce, Cheddar Cheese, and Haystack Onions.
El Camino Kitchen* — Located in Pleasant Prairie, just minutes from I-94, this restaurant offers a diverse menu and burgers are popular! In addition to being able to build your own double stacked burger, there are nearly a dozen specialty creations on the menu with playful ingredients ranging from fig marmalade and brie to bacon fundido and onion straws!
Signature Burger — The San Francisco Burger is a highlight at this fusion-style restaurant. Two 4 oz. burger patties are topped with cherrywood bacon, a three-cheese blend, and house-made guacamole! So fresh!
Johnny'Z Pour House — If you're in search of a neighborhood pub with amazing food, plenty of TVs to watch the game(s), and a friendly atmosphere – Johnny'Z is the place for you. While "The Pour House" is typically known for their chicken and shrimp offerings, this gastro pub serves up some tasty burger offerings, too.
Signature Burger — The Pour House Burger is on the regular menu, but the restaurant has their basic burger on special every Wednesday (all day). The basic burger includes a 4-ounce griddle-cooked patty and cheese. You can add extra patties for just $1 each – with no limit to the patty-stacking!
Mason's Eatery & Pub — Just minutes east of I-94, Mason's offers plenty of space for your family or your larger group to dine. The menu boasts a little of everything, making it a great option to please even the most discerning diners.
Signature Burger — Try the Brisket & Burger. Smoked brisket tops the half pound beef patty, along with applewood smoked bacon, onion straws, truffle aioli, and a cheese of your choice. This burger has all the meats.
Ron's Place — A Kenosha icon, Ron's Place is famous for their well-above average bar food and their 40+ flavors of Long Island Iced Teas! With nearly 50 years in business, it is safe to say that they know a thing or two about serving up tasty food and drinks.
Signature Burger — The 5 x 5. This is a half-pound burger from paradise - served just the way mentioned in that song. A sesame seed bun, your choice of cheese, lettuce and tomato, ketchup, and mustard at the ready, with pickles and onions waiting at your table. Try it with their curly fries for a winning combination. (A 2 x 2 kids' version is also available!)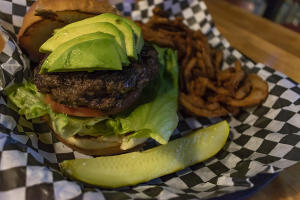 The Garage* — Reopening in 2023, The Garage offers quite a bit of history. This business occupies a bar building that once served autoworkers from the American Motors / Chrysler Plant, which used to be located across the street. The menu offers a variety of appetizers including Poutine and Fried Pickles, as well as fancy burger creations with names like the El Camino and Green Javelin – everything on the menu seems to have a nod to the auto manufacturing heritage of Kenosha.
Signature Burger — The Custom Job aka a Build Your Own burger! Check "Under the Hood" – which means to stuff the burger. Add "Details" with a side of Parmesan Garlic Fries or Garage Slaw. Check out "Dents and Dings" for sauces and look at "Body Work" for extra toppings like BBQ Pork, Smoked Gouda, and Fried Eggs!
Waterfront Warehouse* — This industrial style restaurant is just one block from Lake Michigan and offers everything from flatbreads and salads to burgers and loaded fries. The atmosphere at Waterfront Warehouse offers large windows for a bright dining experience and the music is always on point.
Signature Burger — Wisconsin's Own Merkts Cheese & Bacon Burger boasts two 4-ounce patties, thick cut Cherrywood smoked bacon, and Merkts signature cheese spread. Bonus: you can choose from regular fries, sweet potato fries, waffle fries, or curly fries!
Did You Know?
Carhop service continues to this day in Kenosha!
Get a taste of nostalgia with your order when you visit The Spot Drive-In and Big Star Drive-In!
Big Star Drive-In — Since 1954, Big Star Drive-In has been dishing out burgers, fries, and other specialty items. Known for their summertime carhop service, this restaurant is only open half of the year making it a priority place to visit March through August.
Signature Burger — A Quarter-Pounder with Cheese. The cheese used is an America style, melty blend that coats the burger patty.
The Spot Drive-In* — An American Classic, as it opened on July 4, 1945 – the original owner of The Spot Drive-In simply "wanted a drive-in." The famous red and neon sign is a beacon for anyone in search of a good meal that will "hit the spot." Three generations, and now a second family have been involved in this locally-owned business and it is going strong thanks to their never-frozen beef burgers and homemade root beer! It's open year round.
Signature Burger — A Double Cheeseburger with everything and grilled onions! A thin patty that seems to be smashed into a soft bun will melt in your mouth.
So, grab your stretchy pants and do a burger tour of the Kenosha Area! Just like snowflakes, no two burgers are alike and this is just a sampling of some of the tasty options here! You won't leave this foodie destination on an empty stomach.
Menu items are subject to change. This is just a sampling of restaurants that offer burgers in Kenosha County.