Outdoorsy Vibes - Hidden Gems for Nature Lovers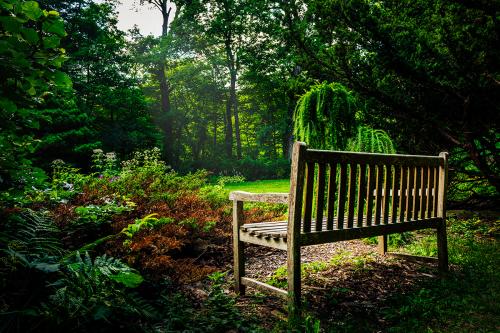 The Kenosha County Parks system offers more than 1,500 acres of managed recreational land at eight parks. The City of Kenosha has 70 park and conservation sites, which make up approximately 1,000 acres.
Towns and villages throughout the county also have their own parks – and there are nature sanctuaries and a state recreation area located here. So there is a lot of ground to cover when it comes to embracing the outdoors!
Let's break down what you can expect from some of Kenosha's hidden gems – the nature edition!
Richard Bong State Recreation Area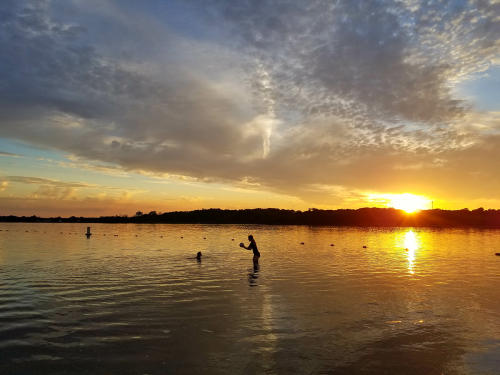 Richard Bong State Recreation Area has over 4,500 acres of multi-use areas. You can bike, hike, fish, camp, hunt, swim, and cross-country ski here. Explore the Nature Explore Classroom. Bring your horse to enjoy the horseback trails. Or bring your ATV for the ATV trail. There's even a special area to fly model airplanes, rockets, hang gliders and hot air balloons – and to train hunting and sled dogs.
The Name!
Richard Bong State Recreation Area is named after Major Richard I. Bong, a Poplar, Wisconsin, native who was America's leading air ace during World War II. In fact, the recreation area was once designated to be a jet fighter base. However, that never came to be.
The Visitor Center!
Inside the recreation area's Visitor Center are wildlife and educational displays. The displays depict a time before any humans walked these lands, through the periods of indigenous people, and then the settlers. The displays also detail when the land was to become a military air base - through today as volunteers and staff work to preserve the land as it was.
The Association!
The Bong Naturalist Association, an all-volunteer nonprofit 501c3 organization, raised $1.3 million in 2023 to add 132 acres of land that would have been lost to development. Beginning November 15, 2023, a new ADA compliant path (proceeds from BNA's 2023 Wolf Lake Trail Run/Walk were earmarked for this) will lead from parking lot 'G' to a new ADA compliant view platform situated in the wildlife wetlands. People with mobility challenges will now be able to get deep into these wetland areas. The viewing platform will be open to all people for viewing resident and migratory birds, and for taking photographs. In the fall the platform can be used for hunting.
The association and the local DNR staff present about 150 events and activities each year, providing nature and environmental education for people of all abilities, ages, and sensitivity. Please visit the BNA website at bongnaturalistassociation.org for more information.
Cost: An annual Wisconsin State Park entrance sticker or daily entrance fee is required. Depending on the activity, an additional fee or permit may be required.
Hawthorn Hollow Nature Sanctuary and Arboretum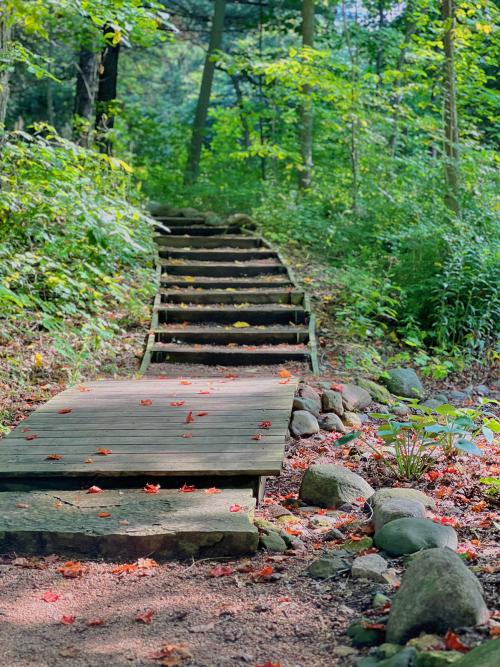 "People very often say to us here at Hawthorn Hollow: I've been driving by Hawthorn Hollow for years and never knew this place existed. I wish I had found out about it sooner," shares TJ Leveque, Executive Director of the non-profit Hawthorn Hollow Nature Sanctuary and Arboretum.
With the Pike River flowing through the property, an archeologist-tested trail walked on by humans for over 1,000 years, historic buildings, an incredible observatory, and so much more - Hawthorn Hollow is a historical treasure as well as a beautiful scenic nature escape.
The staff at Hawthorn Hollow is dedicated to being immersed in the community, sustaining the beautiful nature, and embracing conservation efforts. From the sunflower patch, chickens, bees, beds of vegetables, take and leave produce, and trails, to a children's mud kitchen and sound station, an observatory, and an outdoor amphitheater that hosts concerts, Hawthorn Hollow is a never-ending opportunity to learn about and experience nature!
Arboretum!
Hawthorn Hollow was arranged and designed by the renowned Clarence Godshaw, who in 1967 designed the collection of specimens to view the structure of naturally growing trees from the center of the space.
Reach For The Stars!
The Charles and Kathryn Heide Observatory makes you feel like you really are reaching for the stars! This houses what is currently the largest public-serving telescope in southeastern Wisconsin. With dozens of events throughout the year, the observatory is utilized to the fullest with many opportunities to look through the lens.
There's History!
While exploring the various views of the hiking trails, you will discover two schoolhouses - the first ever Pike River School from 1847 and the Second Pike River School from 1906. Also see the very first Somers Town Hall, built in 1859. (Fun Fact: just a year after it was built, the Somers Town Hall was the polling place for the 1860 presidential election between candidates Abraham Lincoln and Stephen A. Douglas!)
What's New!
Newly restored through Hawthorn Hollow's conservation efforts are the wetlands with miles of new trails to enjoy.
Cost: It's free to visit the park. There is a fee for some of the events/programs and photo permits. Hawthorn Hollow has beautiful opportunities for weddings, receptions, celebrations of life, and other large gatherings.
Bristol Woods Park
Bristol Woods Park offers stunning hiking trails, two playgrounds, a free summer concert series, frequent wandering wildlife, AND is home to Boundless Adventures and the non-profit Pringle Nature Center.
Cost: It's free to visit the park and center. Boundless Adventures and some of the park's events and programs have fees.
Pringle Nature Center
The Building!
Inside the Pringle Nature Center is a reading section filled with books on plants, reptiles, butterflies, and more. The nature center has active living animals, including fish, turtles, a corn snake, and sometimes even butterflies ready to come out of their chrysalis! Pringle also hosts outdoor and indoor events throughout the year, including story walk trails, nature activities, educational courses, and hands-on activities. A wide variety of immersive experiences are offered for all ages.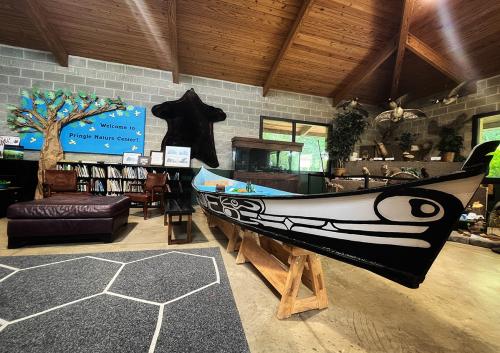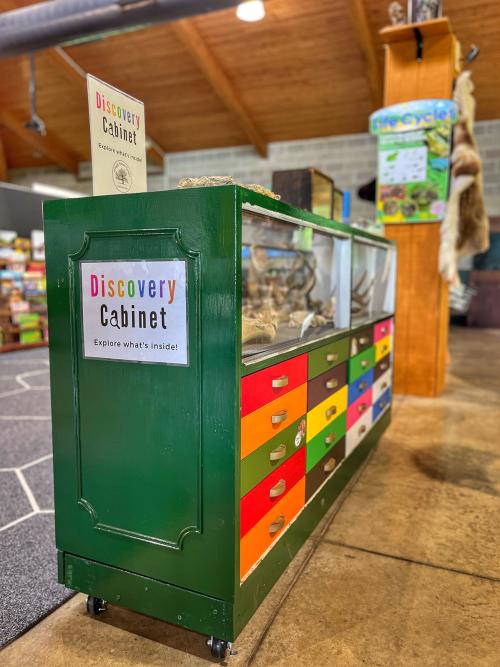 Rentals!
Pringle Nature Center offers tons of rentals and educational opportunities to enhance your time on the trails! This includes explorer backpacks, guidebooks, binoculars, and snowshoes. Pringle also rents out GPS units programmed with the geocaches located in the park. The Nature Center building, outdoor stage, and fire pits are spaces available for rental.
Boundless Adventures
Climb Among The Trees!
Did we mention what else is located in Bristol Woods? Boundless Adventures! Enjoy ziplining and aerial courses with state-of-the-art equipment. There are nine courses of four different difficulty levels! All adventurers are brought through a safety briefing and practice line before they arrive at the aerial adventure to ensure the safest fun possible. Boundless also offers axe throwing! Fun Fact: Boundless gives you the real deal - with authentic targets made from dead trees that are taken directly from Bristol Woods. Pro Tip: You can add axe throwing to your aerial course for a lower cost!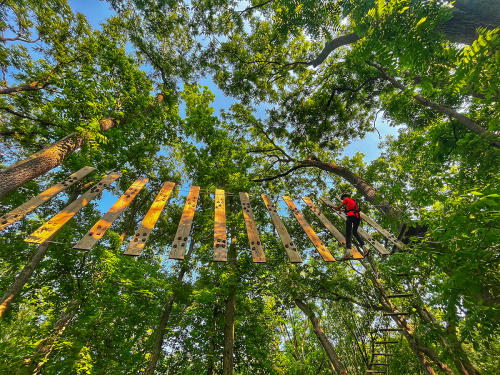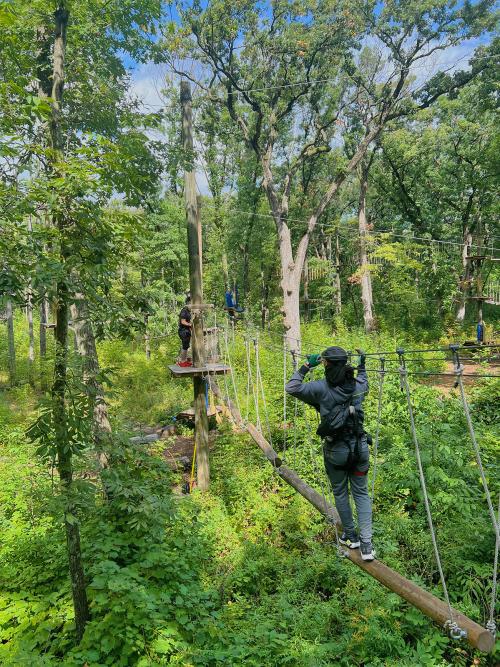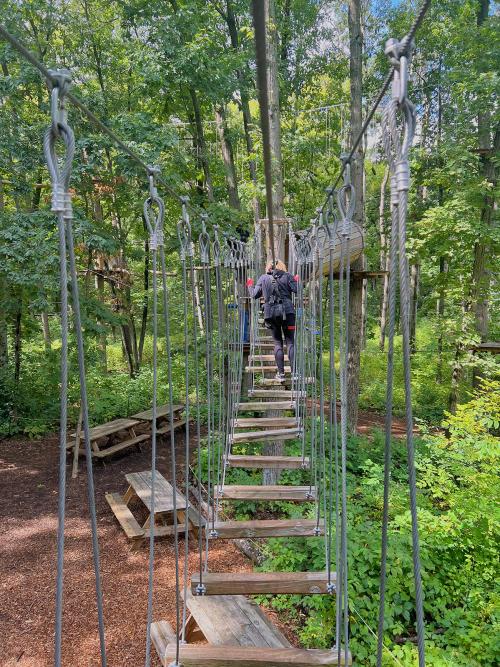 A 482-acre remnant lake plain wet prairie designated as a wetland of international importance, an ecological gem. Enjoy...