10,000 Steps Route: HISTORIC DISTRICTS
A jour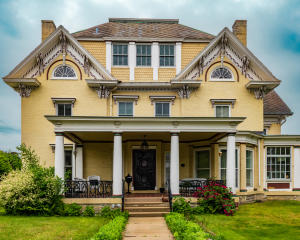 ney of 10,000 steps can seem quite daunting, but the steps go by a lot faster with some awesome architecture to enjoy along the way. Kenosha has three districts that are listed on the National Register of Historic Places: Third Avenue, Library Park, and Civic Center. The Pearl Street Historic District is listed as a locally designated historic district. (Learn more about the four Historic Districts HERE>)
We'll start our historical steps at Anderson Arts Center between Lake Michigan and Third Avenue. This French Tudor style mansion now features rotating local and regional art exhibits and is open to the public during exhibits.
Walking north along Third Avenue, you are in the heart of Kenosha's mansion district and will see such homes as the 1926 James T. Wilson House which is of the French Renaissance Revival style and is individually listed on the National Register of Historic Places.
You'll also pass the 1904 Charles Jeffery House just south of Eichelman Park, which was first owned by the son of the Jeffery Company's founder. They first manufactured the Rambler and eventually become Nash Motors and American Motors.
Turning West on 61st Street we leave Third Avenue and enter the Library Park Historic District where you'll find the 1860 Bain Manor as you turn north again onto 7th Avenue. In Library Park, a plaque commemorates the former site of Ruben Deming's house, which was notable for being a stop on the Underground Railroad. Nearby is the 1892 Urban J. Lewis house, which is the best example of Queen Anne style architecture in Kenosha.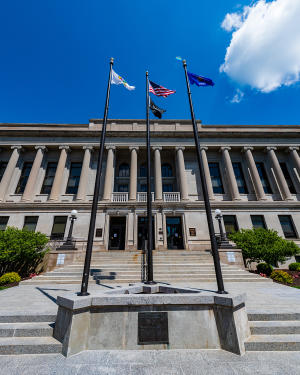 Zig-zagging north and west via 59th Place and 8th Avenue, you'll pass the 1917 building, which now houses The Stella Hotel & Ballroom as you enter the Civic Center Historic District. As you cross Civic Center Park, you can see the Kenosha County Courthouse, Post Office, and Reuther High School, all of which feature Neo-Classical architecture, and date from the 1920s/30s.
Just northwest of here is the Pearl Street Historic District, which is small but features some great examples of cream city brick in the Maple house and Seymour house, which date from 1880 and 1850, respectively.
Walking back east on 56th Street, then south on 8th Avenue will allow more views of the Civic Center and Library Park districts as you return to your lakeside starting point. Don't forget the 1900 Simmons Library, namesake of the district or Orson Welles' birthplace on 7th Avenue just south of 61st Street. Finally, you can't miss out on strolling the grounds of the Kemper Center, including the 1861 Durkee Mansion which is open for tours on certain weekends.
Distance: 3 miles
Complete your steps: Follow the lakefront north about 2 miles to the Kenosha History Center on Simmons Island to discover even more insight on Kenosha's past.
Explore
4 Historic Districts