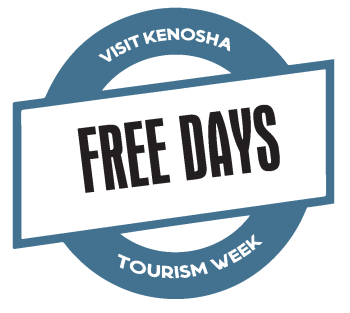 Who doesn't like free admission to attractions, free coffee, and more freebies? Not to mention a day for the dogs!! It's all part of Visit Kenosha's Tourism Week Free Days, May 1-7. This is our way of celebrating National Travel and Tourism Week. We partner with local attractions, shops, and cafes to make the week possible.
If you live in Kenosha County, we thank you for every effort you make to Shop Local, Dine Local, and Play Local! If you live outside of Kenosha County, we hope to see you in Kenosha this year. We're a Wisconsin Harbor Town … a Midwest road trip waiting to happen! Our friendly shop keepers, restaurant employees, hotel staff, and museum volunteers look forward to making you feel welcome in our community.
We encourage everyone to use our resources to help you find #KenoshaFun. Whether it's through our website VisitKenosha.com, the 2022 Kenosha Area Visitors Guide, or our Visitor Information Centers, we are here to assist you! Visit Kenosha has been Kenosha's official travel resource since 1986.
What is Tourism Week?
Each May, seven days are designated as National Travel and Tourism Week by the U.S. Travel Association. This year's theme celebrates the #FutureOfTravel and the tourism industry's role in fostering vibrant communities, driving innovation, facilitating recovery, and powering the U.S. economy – in every corner of our country.
Free Days
If you're a local, "Be A Tourist In Your Own Town" as you take advantage of the free promotions. If you're a visitor, you can use this opportunity to discover – and/or re-discover – the fun things there are to explore in the Kenosha Area. Find all the details at VisitKenosha.com/TourismWeek – here's a peek below: