Pizza, pasta, bombers…oh my!  With so many Italian restaurants around the Kenosha area, it can be a saucy decision to make when the pizza and pasta cravings hit.  Here's a quick list to make lunch and dinner decisions a bit easier when you decide that Italian food is on the menu!
Casa Capri – Since 1954, Casa Capri has been cranking out Italian specialties like lasagna, bombers, and pizza.  They have an extensive menu that is sure to please every palate and leave you feeling pieno (full)!  You'll find tons of pasta selections like cheese-stuffed tortelloni, gnocchi, ravioli, stuffed shells, rigatoni, spaghetti, linguini, fettuccine alfredo, and spaghettini. Is someone at your party not a noodle lover?  No worries, there's a lot of steak and chop options as well as chicken and veal (my favorite) choices!  Casa Capri is a pretty popular spot so be sure to call ahead and make a reservation to make sure you can get in at your desired time.
Italian American Supper Club – With its beginnings tracing all the way back to 1923, the Italian American Supper Club is full of Kenosha history and Italian flavor.  With its classic décor and charm, you'll feel like you are stepping back in time while enjoying their excellent pasta like spaghetti, ravioli, mostaccioli, gnocchi, fettuccini alfredo and linguini.  Try their buono bombers with meatballs or sausage, chicken cacciatore, chicken parmesan, steaks, chops and pizza.  Nothing like enjoying classic Italian food in such a historical setting.  Delizioso!
Tenuta's Delicatessen and Liquors – If you haven't been to Tenuta's yet, stop what you're doing and go there now!  Since 1950, Tenuta's has been providing the best in grocery, liquor and food, of course!  You can order homemade Italian sausage, roast beef and Muffo-lotta sandwiches, meatball bombers and so much more.  Visit the deli and grocery for everything you need for an Italian meal at home – how fun to make a meal together as a family!  They even feature take and heat dinner specials like pan fried pizza, mushroom risotto, zucchini spaghetti, sacchetti, gnocchi, fettuccini alfredo, polenta and ravioli.  Check their Facebook page for up to date information on their daily offerings.  Squisito!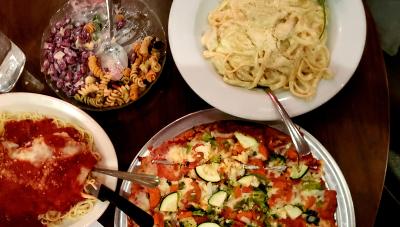 Villa D'Carlo – Since 1957 Villa D'Carlo has been spinning pizzas and cooking up other Italian favorites like bombers, pasta and veal marsala.  Carl's Famous Pizza is still being spun here too, topped with vegetables, meats and other specialties like anchovies, fresh garlic, giardiniera, pineapple and jalapeno peppers.  Got a non-pizza fan in your party?  No worries, they have the classics too, like gnocchi, lasagna, ravioli, spaghetti, chicken parmesan, fettuccini alfredo, veal with spaghetti and steaks and chops!  Another amazing, authentic Italian choice in Kenosha!  Ottimo!
More Options
Bristol 45 Diner – This diner is the perfect family dining spot in a fun atmosphere and lots of food choices, not just Italian!  Italian selections include chicken parmesan with spaghetti, spaghetti and meatballs and fettuccini alfredo with chicken or shrimp.  Can't go wrong with a local diner!
Century Pub and Eatery – Pizza night?  Century Pub has a few pizza choices for you want when you want to keep it classic and easy.  Satisfy your pizza craving with 12 inch pizzas with cheese, sausage, pepperoni, and supreme.
Tuscany Bistro Bar & Grill – The menu at Tuscany Bistro features delicious Italian cuisine and fresh seafood dishes, including the Linguine Pescatore which has clams, mussels, shrimp, scallops, and grouper. Delicious gourmet pizzas are served with a homemade tomato sauce as their base. Ask about their gluten-free pizza, and cauliflower crust, too.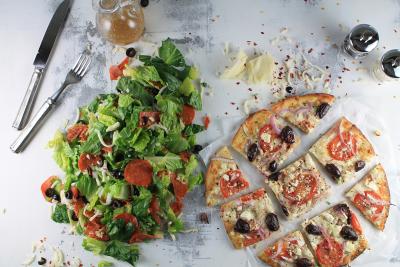 Valeo's Pizza – Seems obvious, right?  They have pizza.  Yep, they do – but SO MANY OPTIONS!  Thin, hand-tossed, pan, gluten free, keto cauliflower and zucchini crust options!  Sauce?  Alfredo, butter, crushed tomato, buffalo, olive oil, pasta or pizza sauce and BBQ.  Choose from blue cheese, cheddar, mozzarella, parmesan, spinach-ricotta mix, vegan cheese or a four cheese blend.  Endless toppings like Canadian bacon, chopped garlic, hot peppers, red and yellow onions, pepperoni, pineapple, sausage, tomatoes, dill pickles, fresh basil and spinach, green peppers, ground beef, Italian beef, mushrooms – canned or fresh, black, Greek or green olives.  Plus there's bacon, breaded, buffalo or grilled chicken, nitrate free or plant based pepperoni.  Add basil, cheesy bread mix, garlic pepper and oregano too!  Opt to make it stuffed or get a 10 inch calzone!  Finally, yep, they have bombers.  Don't mind me…I gotta place my order now….
No matter what type of Italian food you are searching for, you will find it in the Kenosha area!  Pizza, pasta, bombers and so much more, you will need to loosen up your belt buckle a bit after you indulge, and maybe take a nap too!  So the next time it's Italian night (or afternoon), Eat Up! Mangia! Enjoy! Divertiti!