Going on a family vacation can be an exciting time for creating memories and sharing time with the ones you love. However not being able to take your furry family members along with you can add a little stress to your time away, and put a damper on your vacation spirits. The Kenosha Area has many venues that are welcoming of pets and offer things to do with your four-legged friends. Exploring the area with your whole family will be an extra dose of fun!
Dog Parks
There are 70 park and conservation sites in the City of Kenosha, eight parks in the Kenosha County Parks system, and parks in towns and villages throughout the county – all of which welcome you and your pets. However, there are also five specific off-leash dog parks. Some are free to visit, while others have a nominal fee.
The Carlisle Family Dog Park at Petrifying Springs Park is a spacious area that offers two sides - a large dog side and a small side - for your pup to run around and play without feeling overwhelmed. Petrifying Springs is a great place for you to enjoy some exercise with your dog, too. The trails are perfect for an afternoon of hiking, running, or just strolling along. In addition, there are many playgrounds within the park for the human kids to enjoy, as well. Fun fact – this park is known by locals as "Pets" – a shortened version of the proper name, but appropriate for animal lovers looking to enjoy the great outdoors! Lake Andrea at Prairie Springs Park offers a designated swimming area for dogs, too!
Pet-Friendly Shops
If your pooch loves to shop, be sure to stop at K9 Kibble! Whether in search of a special snack or a necessity while away from home, this shop carries everything from high-quality kibble and collars, to toys and treats for dogs and cats. After all, you aren't the only one that is on vacation, right?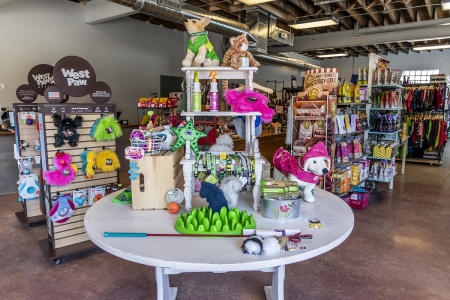 Pleasant Prairie Premium Outlets is a pet-friendly mall and a list of pet-friendly stores can be obtained at the Guest Services office, so you can enjoy saving money on popular name brand shopping while spending time with your best friend!
Jerry Smith Farm's Feed & Seed store also carries food, treats, toys, and accessories for dogs, as well as other gift items like hummingbird feeders and even fashion accessories. It's a must-stop for you and your pampered pup!
Dining With Your Dogs
There are several restaurants in the area that offer outdoor seating, and in turn, welcome pets to dine outdoors when the weather permits. You can order an unseasoned 5oz burger patty for your pup to enjoy at Captain Mike's. Or, if your pal is a more refined eater, a slice of your steak may find its way to them while you are sipping on a glass of vino at Wine Knot. Is your dog your co-pilot? Check out two popular drive-in restaurants, Big Star Drive-In and The Spot Drive-In. These vintage eateries will definitely meet your expectations with their delicious food brought right to your window - so no need to bring a leash!
Beyond dining, ice cream and beer are other popular vices for dogs and their people, alike! Ice Cream is a sweet treat for everyone, and at Scoops Ice Cream that even means your pup. With "doggy ice cream" flavors like Peanut Butter & Banana, your whole family can enjoy something sweet on a warm day together. If your puppy pal is super chill, you'll love visiting some of our local breweries – again, outdoor seating makes it easy to bring your friend along. Tavern on 6th has treats and a water dish available in the outdoor seating area to treat dogs to some relaxation.
Pet-Friendly Accommodations
Kenosha Area hotels including Candlewood Suites, Value Inn, and Wyndham Garden – Kenosha Harborside offer pet policies to ensure that your pet can visit our area in the same comfortable setting as you. There won't be any need to leave your pup at home while you're on vacation ever again!
lodging that is
Pet-Friendly
If your fur friends are traveling with you, you'll want to make sure you select an overnight accommodation that...
Enjoy your visit to the Kenosha Area!
This is just a sampling of pet-friendly places in Kenosha.