You've been seeing her on TikTok, now let us introduce you to our new Digital Media Specialist, Jenna Zeihen. In September 2022, Jenna joined our Visit Kenosha team in the newly created position. Here, in her first Visit Kenosha blog, she talks a bit about her role.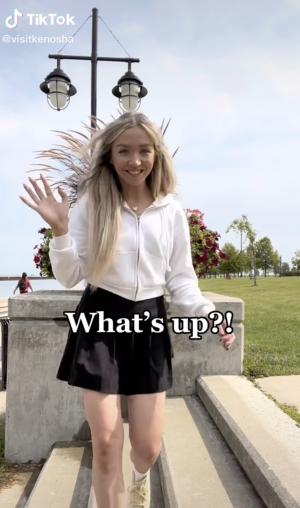 Upon arriving to Visit Kenosha I knew I wanted to showcase parts of Kenosha that could appeal to locals and tourists alike on social media. With the last few years bringing new changes in technology, in the ways we consume media, and the overall changes in attention spans online, I was excited to add TikTok and Instagram Reels into the marketing mix at Visit Kenosha.
When I'm on TikTok, I find myself engaging most with video content that shows people giving their audience a glimpse into a part of their life they feel passionate about. Whether it's the things they enjoy, activities, or adventures they go on, I am here for it.
And I thought, wait.
Why not have Visit Kenosha, Kenosha's official travel resource, become an active resource on TikTok and Instagram Reel? Not only, in the hopes of showcasing the beautiful parts of our charming city to those looking for a weekend getaway, but also to encourage the people of Kenosha to become a tourist in their own town. The Kenosha Area has attractions, boutiques, restaurants, museums, art galleries, and some of the most stunning views in the Midwest - and we want everyone to truly experience Kenosha.
I think it's easy to forget how remarkable, wonderful, and full of character our city is if you've lived there a long time. Suddenly things that once stood out can become mundane. But that's where we step in. By curating video content that will give valuable information in under a minute and a half, you can also check back to our videos to send friends and family recommendations of where to stay, dine, and play in Kenosha very quickly. These videos are lasting resources that aim to inform and inspire.
We have content showing you everything from small moments of beauty in Kenosha, showing hidden gems and local Kenosha businesses, ideas of where to go to breakfast, where the best places to stay are, the best family activities, and much more. We have also been receiving video ideas and requests and encourage you to leave what you want to see more of in the comment section of our videos!