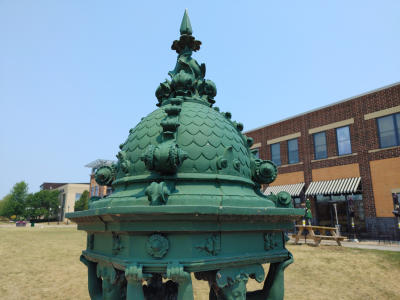 In September 2022, the 150th Wallace Fountain Anniversary will be celebrated in Paris. How does that apply to Kenosha, you may ask? Kenosha will be mentioned at the celebration! We have our very own Wallace Fountain! You may have seen the fountain – at the Place de Douai in HarborPark. While it's been here since 2001, more people will now know about it!
Last year, I assisted a volunteer from the Society of the Wallace Fountains, a Paris based, non-profit dedicated to preserving, protecting, and promoting the iconic Wallace Fountains of Paris. Suzanne explained to me that the organization was developing a section for their website called "Wallace Fountains Around the World". (Earlier this year, Kenosha was added to the website.) She had heard about our Wallace Fountain and seen a picture of it on our website. She needed more information about how it came to be here.
Our Fountain
Kenosha's Wallace Fountain is more a piece of art than a functional drinking fountain (it's currently not working). Before Suzanne reached out, I knew the basics: Place de Douai in HarborPark showcases the Wallace Fountain, which was donated by the citizens of Douai, France, a sister city of Kenosha. The two cities have been sister cities since 1981.
HarborPark is a neighborhood that is the epicenter of Kenosha's beautifully redeveloped Lake Michigan shoreline. Place de Douai is a plaza near the Kenosha Public Museum and Southport Marina. A portion of Kenosha HarborMarket takes place here on Saturdays in the summer. The Kiwanis Club of Kenosha donated a towering clock that also stands in Place de Douai.
I did not know there may be more than 150 Wallace Fountains located outside of Paris with possibly up to ten of them in the United States. (As I write this, I'm reminded of the Miniature Statue of Liberty that's inside the Kenosha History Center. This miniature was one of about 200 statues placed in communities throughout the country by Boy Scout troops. I wonder if they've all been preserved and where they are now!)
I confirmed with a contact at the City of Kenosha that the Wallace Fountain was indeed a gift from the city of Douai, France to Kenosha as part of the sister city relationship in 2001. Mayor Antaramian wrote a note of thanks to the Mayor of Douai, Jacques Vernier, in August of that year.  
Next, the society's president did the writeup on Kenosha's Wallace Fountain. During the overall project, she found that Douai does not actually have a Wallace Fountain themselves. She also discovered that Wallace Fountains were a popular gift for sister city exchanges among small cities in France. 
What is a Wallace Fountain?
According to the society's Wallace Fountains website, "Wallace Fountains are public, drinking water sources primarily located throughout Paris, although replicas exist at various locations worldwide. The first 50 were installed in Paris beginning in 1872." The website says "the true motivation of Sir Richard Wallace, the Englishman who lived most of his life in Paris and who donated funds in the second half of the nineteenth century to bring free, clean drinking water to Parisians, remains debatable. Was it simple altruism? … Through his focused efforts to combine practical design with extraordinary beauty and allegorical meaning, he created works of art that continuously serve the public by delivering clean drinking water to the population. He also gave Paris one of its most lasting and beloved iconic symbols."
Next time you're in the HarborPark area, stop and appreciate our very own touch of Paris called the Wallace Fountain!
Learn more at the Wallace Fountains website HERE>
View the website's Kenosha listing HERE>
Meet Kenosha's
Sister Cities