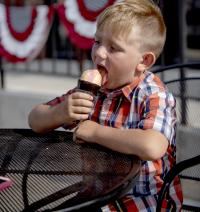 July is National Ice Cream Month and National Ice Cream Day is Sunday, July 16th…which means we have gathered 9 of our favorite Ice Cream related must-try treats in Kenosha, Wisconsin! Consider this your official Kenosha Ice Cream bucket list. (Don't worry, you can thank us later.)
1. Elvis Sundae at Kenosha Kingfish games
Part of the experience at any baseball game is the food. Historic Simmons Field – home of the Kenosha Kingfish – has a variety of options on the menu including the Elvis Sundae. The tasty treat includes the novelty helmet – and it's available at every Kingfish home game. (Elvis is the name of the mascot.)
2. Root Beer Whirl at The Spot
The Spot Drive-In is a Kenosha treasure! Locals and visitors alike love The Spot for their homemade root beer in a frosted mug…. But we recommend you step it up a notch and order the Root Beer Whirl™! Enjoy the root beer taste that comes straight from the original family recipe!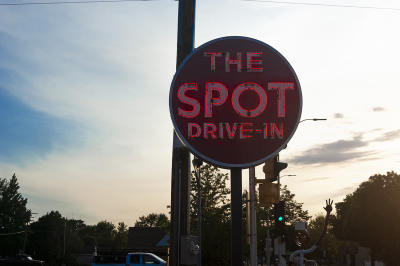 3. Shakes at Big Star
Three Generations and Big Star Drive-In is still a Kenosha tradition loved by many! The burgers, fries, and cheese curds are staples– but the real hidden gems are the shakes, cones, and sundaes! This Drive-in gem is waiting for you! And grabbing a sundae on Sunday for National Ice Cream Day is a pretty cute idea!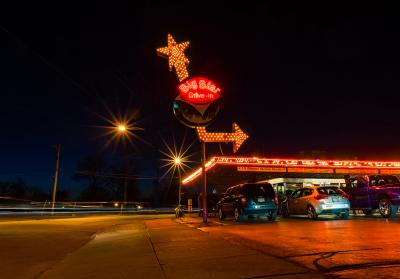 4. Sampler Dish at Sandy's Popper
Sandy's Popper has the nostalgic, family-friendly, charming vibe we crave in an ice cream spot. But have you felt the stress of having to decide which flavor to choose? Sandy's Premium Cedar Crest ice cream is a dream – and to combat the challenge of the ultimate choice, Sandy's offers a sampler dish! Pick 6 flavors and give em' a whirl!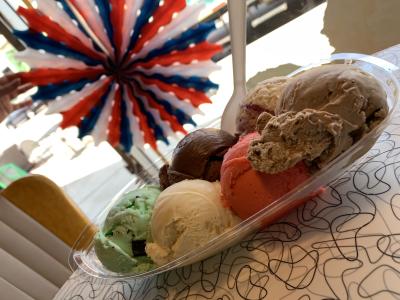 5. Puppy Ice Cream at Scoops
If you don't know… Scoops Ice Cream & Candy is a hot spot for frozen treats in Kenosha Wisconsin…but to make it even BETTER, they have options for our furry friends too! Doggie Frozen Yogurt Treats are offered at Scoops but be warned! It will quickly become a dog-walking stop…the cuteness overload from watching them eat the frozen yogurt is truly something.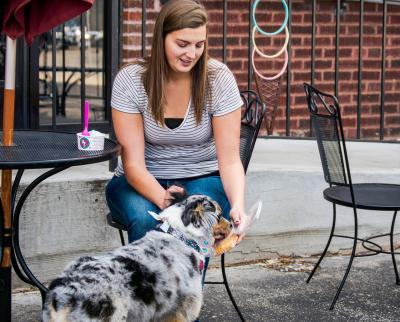 6. Grasshoppers at House of Gerhard
House of Gerhard brings the old-world charm and German flavor to Kenosha! But have you ever tried the Grasshopper for dessert? This ice cream treat is a minty timeless dream that will give you all the nostalgia!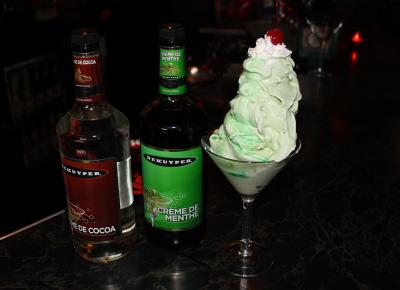 7. Brandy Alexanders at the HobNob
Enjoy a decadent atmosphere and view at the HobNob Restaurant & Cocktail Lounge followed by a Brandy Alexander (for those 21+)! All ice cream drinks at the HobNob are prepared hand muddled and stacked. They also offer blended ice cream drinks and many other dreamy flavors!
8. Ice cream Nachos at Smarty's Sweets and Treats
Everything on the menu at Smarty's Sweets and Treats is a WIN in our book… but there is a clear standout that must be added to this list. Ice cream. Nachos. That's right. Enjoy an ice cream sundae moment like you never have before with waffle cone chips to scoop up the ice cream dream!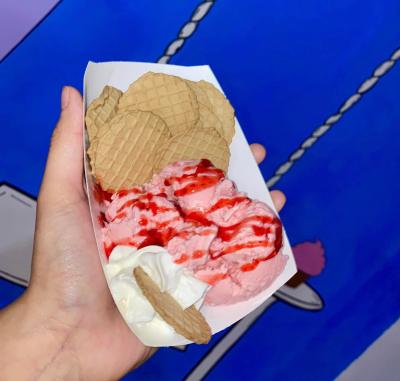 9. Unicorn Pancakes (yes, ice cream on pancakes) at Bristol 45 Diner
Bristol 45 Diner created a hybrid dessert breakfast that we have no choice but to mention here. Clearly, a Unicorn Pancake is a genius idea. How does one create a Unicorn Pancake? Well, Bristol 45 has been quite innovative & added a scoop of sherbet, a cone for a horn, bacon, whipped cream, and sprinkles to this pancake. Need we say more?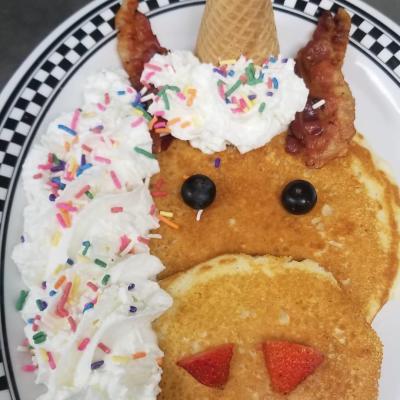 If this legendary ice cream bucket list doesn't get you celebrating National Ice Cream Day in Kenosha… we don't know what will! Send this to your favorite Kenosha foodie and tag @visitkenosha in your ice cream pics so we can see which option you choose!
This is just a sampling. Offers are subject to change.