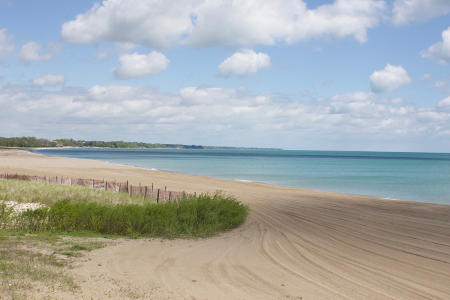 There isn't much that beats life by the lake. Perhaps that is why Lake Michigan is the #1 attraction in the Kenosha Area. There is something about being at the beach that can take anyone away from life's everyday demands. The sand between your toes, the smell of sunblock lingering in the air and the sun shining above with no clouds in sight makes for a perfect day that puts you on vacation – even if you're in your hometown. 
"Did you just say sand?" That's right! Lake Michigan beaches in the City of Kenosha might look rocky during the off season, but they are groomed regularly with beautiful sand for the perfect day on the water. You'll even find waves that are strong enough for parasailing and surfing at times. No wonder Lake Michigan is referred to as the third coast! So what's the scoop on the beaches?
Here is a quick guide to some of the best places to catch a wave or soak up some sun:
There are additional inland lakes and rivers to enjoy, as well as waterways for kayaking and stand up paddle boarding. You'll have fun exploring all the ways to enjoy the bodies of water here.
If you prefer a pool – visit Anderson Park or Washington Park. Both public pools (open select days) are staffed with lifeguards and feature fun amenities like waterslides! Splash pads can be found at HarborPark and Roosevelt Park, too, for a refreshing romp through cool cascading water. The splash pads are wonderful for parents with small children not quite ready to swim yet.
Find more information about our area beaches, pools, and splash pads, go HERE>
Learn about kayak, duck-themed pedal boat, aquacycle trikes, and stand up paddle board rentals in the harbor HERE>
Lake Michigan is one of Kenosha's most popular attractions!...
There is good reason for Kenosha being known as the trout and salmon...
The Kenosha County Parks system offers more than 1,500 acres of...
Pick your setting: sidewalk, garden, patio, deck, rooftop, or even...