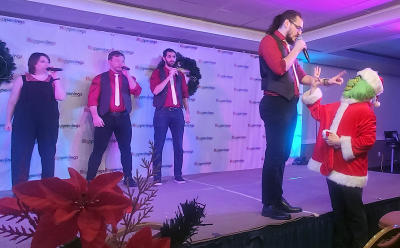 The Christmas holiday is my absolute favorite time of year and every year I look for new ways to enjoy the magic of the season.  Christmas wouldn't be as special without all the wonderful music…for me, it just ties the whole season together.  This year Kenosha has a very merry addition to bring us all together in the joy of the season, and that's Harmonix!
My eight year old son (a huge Christmas fan) and I had the incredible opportunity to see this high-spirited a cappella group sing at the Wyndham Garden - Kenosha Harborside hotel as part of their six-week residency performing their "Very Cool Yule" show – and you can too! They have a lengthy performance schedule lined up going all the way through December 30! You can even catch them for a bonus performance at the City of Kenosha Christmas Tree Lighting on Friday, November 25. Harmonix will sing and dance their way through some holiday classics and some modern favorites starting at 3:45pm as people begin to gather at the City Christmas Tree at Fountain Plaza by the Kenosha Public Museum. I can't think of a more jolly way to kick start the Christmas holiday!
The Harmonix show at the Wyndham Garden, which offers show times in the afternoons and evenings, runs about 90 minutes and is a fantastic mix of modern music medleys and Christmas classics. It's two shows in one, really, and it is truly a harmonious show for all ages.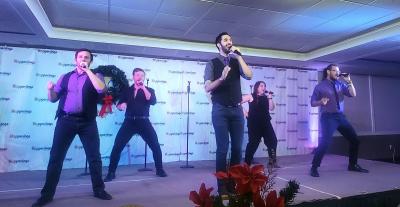 In the first part of the show you will hear a mixture of 1960s, Doo-Wop, and current hits presented in medley-form which keeps the music moving and grooving. There's never a dull moment. Between the friendly banter of the performers and their exquisite talents, the energy is infectious and just so much fun. My son's favorite performer was Charlie Arthur, the bass vocalist who specializes in vocal percussion, or as others may call it, beat-boxing. He kept asking me, how does he do that? And as Charlie jokingly mentions in the show, instruments are too expensive so they use their voices and bodies to complement their sound. That's right, no instruments here…sometimes they don't even use a microphone!  
The second half of the show features a costume change and the Christmas Party portion of the show. Each group member describes what Christmas means to them and then the group sings and performs a choreographed dance to showcase their favorite Christmas memory through song. Mason Van Gieson commands the stage with her fun rendition of Santa Baby and shares her memories of what she would ask Santa for as a child versus what she asks Santa for as a grown-up…a yacht, and really that's not a lot! You'll be delighted to see other fun costume changes by Adam King, Danny Zimberg, and Ryan Slone too. I won't spoil it for you…let's just say you'll feel like a kid again.
If you're in the mood for a way to celebrate this holiday season in a harmonious way with a mix of Doo-Wop, Pop, and Christmas charm, this Harmonix show is for you, your friends, and family. Come share the joy of the season and rediscover what Christmas means to you.
Note: Group discounts are available. Ask about the hotel's $99 Stay & Play Overnight Package by calling Wyndham Garden – Kenosha Harborside at (262) 658-3281.