What can compare to the first moments of fall in Kenosha, Wisconsin? The air turns a little crispier, the leaves begin to slowly shift, and Kenosha's coffee shops, ice cream parlors, and cafés begin to put out their fall drink specials. The answer is nothing. Nothing compares. That's why we're here to update you on just a few of the fall drinks from our awesome local businesses with Visit Kenosha's Fall Drink Tour!
The Buzz
With new unique drink specials weekly at The Buzz, there's always something to look forward to. But this also means the drinks are ever-changing (so you might need to stop in or check out @TheBuzz on Instagram and Facebook to see what the special is this week! ) We started by ordering the Harry Potter Butterbeer Latte with soy milk. It was described as tasting just like the butterbeer at Harry Potter World in Universal Studios, and it was just sweet enough to not be overwhelming. The perfect cozy balance of butterscotch and coffee! To top it off, I think October marks the beginning of the watch-all-the-Harry-Potter movies season, so I was here for it.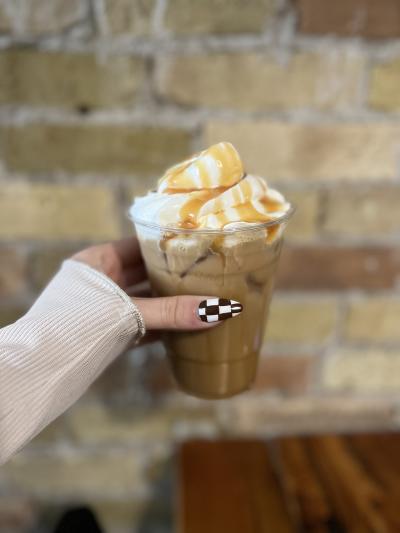 Blak Coffee
Y'all. There are SO many options. Truly, if you want to try them all, go over to Blak Coffee and have a coffee tasting with your friends! The coffee flights are the only one of their kind in Kenosha. (You can pick your drink flavors!) We ended up choosing the Sweater Weather Latte iced to mix things up. This drink is a marshmallow hazelnut autumnal DREAM. But if you want more options you can also try… Pumpkin Spice Latte, Caramel Apple Chai, Pumpkin Spice Cold Brew, Red Orchard Lightening Bolt, or Caramel Apple Lightening Bolt.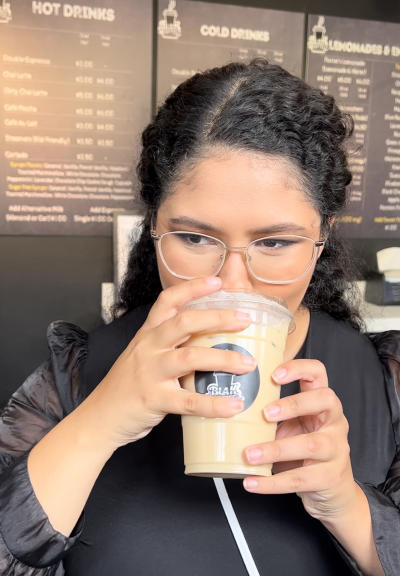 Anna's on the Lake
Anna's on the Lake is serving up a Pumpkin Chai for fall! The spiced chai latte you already know and love is met with the perfect touch of pumpkin. We got it the regular way, BUT if you're an espresso lover or big coffee drinker, go ahead and ask for a Dirty Pumpkin Chai Latte. It'll give you that espresso touch along with the chai!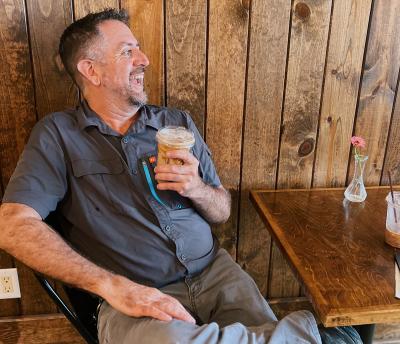 Café at The Stella
Caramel Apple Latte time! The Café at The Stella is such a charming and calming space to get some work done, catch up with friends, or enjoy a seasonal drink just like this! Topped with whipped cream and caramel drizzle, it smelled like the coziness of apple cider with the creaminess of a latte. A definite 10/10!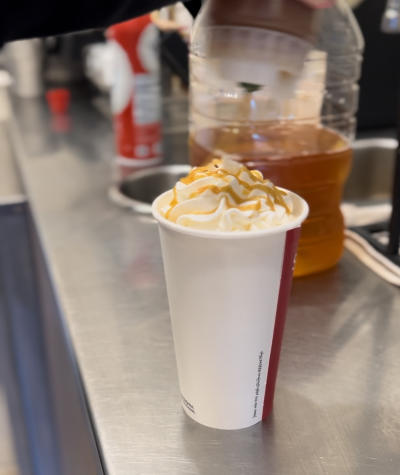 Coopers Uptown
We wanted to try the fall special Pumpkin Spice Chai at Coopers Uptown in a mug to sit down and enjoy. Pro Tip: Choose the "for here" option as I did! Take a seat, savor your drink, and explore the charming gift shop. The latte art from having the drink in a mug really added a bit of magic! This creamy chai latte is topped with the perfect pinch of cinnamon and served hot or iced. Hot for us, but no judgment if you're an iced coffee all-year person. Kenosha coffee drinkers can truly drink a cold drink at any temperature, even in the dead of winter. If you know, you know.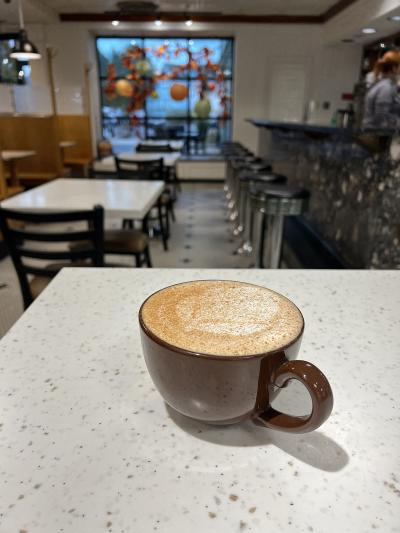 Sandy's Popper
Is this a drink? (Is it fall?) Maybe not, however, this milkshake magic was so stunning we had no choice but to claim it eligible for our fall drink journey considering the incredible autumn decor and fall vibes inside Sandy's Popper. This milkshake heaven is called "The Hurricane"- and it is not for the faint of heart. This chocolate caramel dream was topped with literal chunks of Hershey bar, chocolate, caramel drizzle, whipped cream, and Teddy Grahams. BUT if you need to go more the fall route, there's an Apple Cider Float! Someone go over and try it and let us know how it is!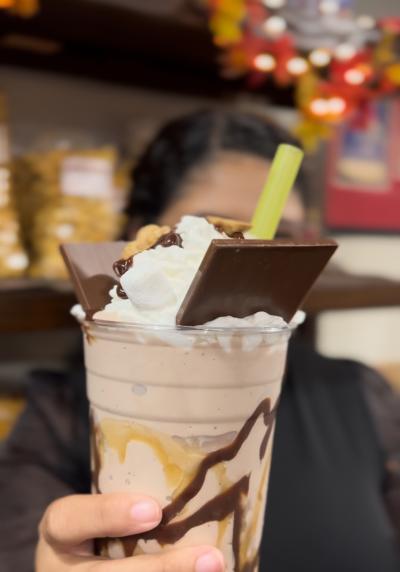 This series isn't over yet so be sure to let us know on social media @VisitKenosha where we should head to next! And don't forget… the holiday season is just around the corner (a whole new world of seasonal beverages…. I can hardly contain the excitement.) Don't forget to tag us in your Kenosha favorites on Facebook and Instagram @VisitKenosha
More #KenoshaFun
In The Fall