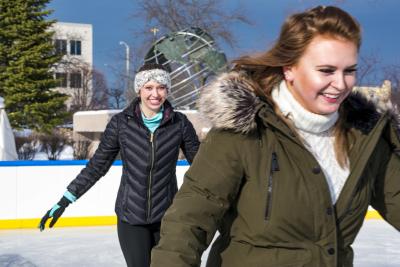 The clocks are turned back, the sun sets at 4:30pm, and once again we are all simply hoping our windshields will defrost enough for us to get to work on time. If you're from the Midwest, or travel to us, you know the cons of Wisconsin winters… but that's why I'm here! To give you a breakdown on how to best embrace the pros!
Step 1 Get Ready to Skate
Bundle up and get ready to live out your figure skater dreams on our Downtown Kenosha ice rink at Veterans Memorial Park! Leg warmers, mittens, muffs, the whole thing. You want to be as cozy as possible to enjoy skating the longest! (AND pro-tip: take it from someone who knows…it's a lot less painful to fall when you're bundled up!)
Step 2 Grab your Skates
If you're a seasoned skater, feel free to bring your personal skates along! If not, it's your lucky day! You can check our FREE ice skates! Just leave a photo ID such as a license or school ID and you can borrow ice skates in adult or child sizes. Admission for the rink you ask? Absolutely FREE! That's right, I meant it when I said Kenosha wants you to embrace the winter wonderland that is the Midwest!
Step 3 Skate away!
Time to hit the ice! Whether you're in need of a family activity, date night idea, time with friends, or just some alone time out on the ice, this is the perfect way to have some #KenoshaFun! The city of Kenosha's 32-foot by 60-foot outdoor ice rink is the perfect size to keep a close eye on your kiddos too if you're looking for some family fun!
Step 4 Ready for more?
If Kenosha's ice rink piques your interest then you'll LOVE our Fun 101 list! It is packed with 101 ways to enjoy the winter months in Kenosha for $10 or less (and many are free!) If you can't get enough winter magic, go find a follow up adventure from Fun 101.
Step 5 Defrost
Time to warm up after a cold spin on the ice? The rink being located in Downtown Kenosha means you are a short skip away from some of Kenosha's best restaurants, boutiques, coffee shops, and specialty stores! Whether you need a hot chocolate, or a bite to eat, our Downtown Businesses have got you covered!
Step 6 We know you took cute pictures…
There's no way you just created magical core memories ice skating in Kenosha, Wisconsin with loved ones or friends and didn't take a photo. And guess what… we want to see! Share your winter wonderland loving self embracing the Wisconsin Winter with the hashtag #KenoshaFun, and tag us @VisitKenosha! We can't wait to see all of the #KenoshaFun to be had this winter!
Also enjoy these winter activities:
Explore
What's Next to Lake Michigan