Santa's Calendar
Visit Santa in the Kenosha Area!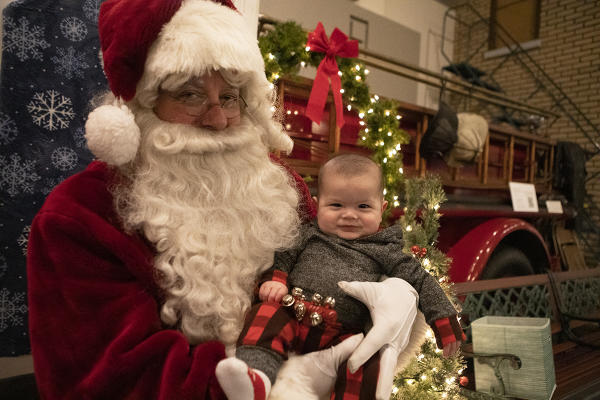 You better not cry or pout as he sees you when you're sleeping and awake … and he knows if you've been good or bad. We're talking about Santa Claus, of course! And he is coming to Kenosha – many times – this holiday season! We've made our own list – and we are checking it twice – to share with you where and when he's going to make a public appearance. Occasionally Mrs. Claus does a meet & greet with her fans as well!
You know how busy Santa is this time of year … but he sure does love to visit our community! Maybe that's because there are not one but two lighthouses to light his way! While Rudolph's nose may get the whole entourage to Kenosha, sources say it's the Southport Lighthouse and North Pier Lighthouse that provide additional wattage when they come in for a landing zone.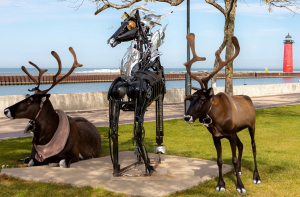 There are still lingering questions … which hotel does Santa stay at? Or does he do the long commute back and forth to the North Pole? Where does he park his sleigh when he visits? And where do those reindeer go when the boss is busy posing for selfies with his admirers? Do Rudolph, Dasher, Dancer, Prancer, Vixen, Comet, Cupid, Donder (or is it Donner?), and Blitzen go sightseeing? Hopefully they don't get too startled by Ma mère when walking through the Sculpture Walk – HarborPark! (shown is the scene we imagine)
So gather the naughty and nice kiddos (or in some cases – pets), head to one of these events, and don't forget to take photos! (Still need that perfect Christmas card photo? Hint, Hint!)
Santa / Mrs. Claus Appearances:
Appearances are added to this page as soon as the elves confirm their schedules. Please note: some events have multiple dates; please click on each to read the complete information.
City of Kenosha Christmas Tree Lighting Ceremony and Lightin' Up Downtown
November 24, 2023
Jerry Smith Farm Holiday Light Walk
November 24 – December 17
Saturday Family Fun Days with Santa
Saturdays, December 2-23
Accepting Coats, Hats, Scarves, Mittens, New Socks
Bundle Up Kenosha!
Find an array of locally-owned shops, boutiques, galleries and markets with an emphasis on the...