As we all know, trying to ride a bike during the nasty, cold, dark, windy, and snowy days of a Wisconsin Winter is less than ideal, nor fun. So, for most amateur/recreational bicyclists, like myself, you probably put your bike away for the winter. There, your poor bike hangs in the garage, ignored, neglected, and unloved, developing a good case of the winter doldrums.
But let's look on the bright side, spring is here! Warmer temperatures and sunny blue skies will be bringing the cyclists back out to the roads and bike paths. But before you jump back in the saddle and hit the road, take it over to Total Cyclery in Downtown Kenosha to make sure your bike is ready. It would be like you visiting with your doctor or with a fitness trainer to get a health assessment before you go biking; your bicycle needs the same attention. Now is a good time to bring your bike to Robby Gauss at Total Cyclery for a good Spring tune up. You'll feel better, knowing your bike is healthy, and you're safe taking it on the road or bike path.
Did you know there are more than 130 miles of bike trails in Kenosha County, including the Kenosha County Bike Trail, the Pike Bike Trail, and mountain bike trails at Silver Lake Park?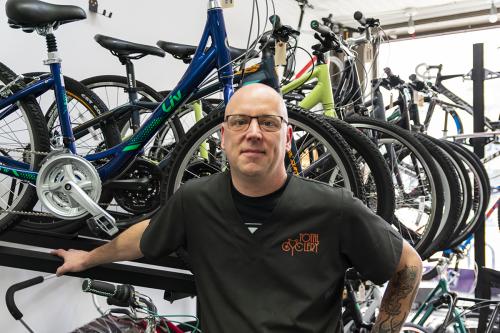 Total Cyclery is a second-generation, family-owned bicycle shop. It was in 1986 that Marty and Caroline Gauss started the shop and 2014 when Robby took over. While growing up in the bike shop, Robby learned from his dad how to fix every kind of bike and, most importantly, how to connect people with the right bike for their needs. "My dad treated every customer like they were the most important person in the world," says Robby. "It didn't matter if someone needed a simple flat tire repaired, if they were looking for a bike to ride around town or if a champion racer wanted a new high performance race bike built up, my dad always put his whole focus on the job to make sure each and every rider had the best experience."
Robby and his team have over 40 years of experience in the bicycle industry! One of the coolest service experiences Total Cyclery offers is a "MOBILE" Repair Service that comes directly to you! It's like getting a house call from your doctor! Total Cyclery is Kenosha's bicycle experts, and they are qualified to fix and service all types of bikes.
Here are some of the qualities which makes Total Cyclery a Kenosha favorite:
Experience - trained and certified mechanics, 40 plus years
Mobile Bike Repair - simply the mobile version of the local bike shop
Competitive Pricing - At the time of your service, they will go over all associated costs for any bikes, parts and service necessary before they begin the work.
Event Support -Total Cyclery supports several bike events in our community - including charity rides, races, fun/leisurely sporting events, and triathlons.
Group Service Discounts Available - Multiple bicycle discounts are available for cycling groups, large families, etc. 
Corporate Services - Total Cyclery works with companies big and small to promote active living and a healthy lifestyle for employees.
100% Guarantee - their customers satisfaction is most important. They will work with you to ensure your bike is functioning 100%.
Visit their Facebook page to learn more about their Spring Tune-Up Special that's going on through March 31, 2022.
Enjoy biking in Kenosha!