The National Day of Giving takes place the Tuesday following Thanksgiving. Please consider supporting a nonprofit organization in the Kenosha Area.
Show some love by making a monetary donation to (or becoming a member or volunteer of) a favorite:
music organization
other cultural nonprofit organization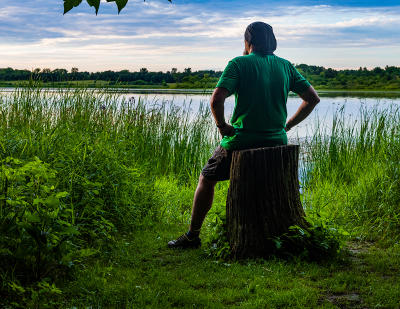 Also consider supporting a nature association. Become a "Friend" of Hawthorn Hollow Nature Sanctuary and Arboretum or Pringle Nature Center. Or help a state recreation area with a land acquisition!
When this news release arrived in my email inbox, I was intrigued. Here is what the Bong Naturalist Association sent me:
The Bong Naturalist Association announces a land acquisition. Kenosha Unified School District (KUSD) and the Wetlands America Trust, Inc. have signed a contract for the sale of 132 acres of land to be used by Richard Bong State Recreation Area visitors. The KUSD board voted on October 25, 2022, to approve the sale.
The land was originally part of the Bong Airbase purchase in the 1950's. After the base project was canceled, land was divided amongst four school districts and the Recreation Area. The majority of the land purchase is located east of Highway 75. Approximately 35 acres are located west of Highway 75 and south of Wolf Lake. For years, KUSD has allowed the public access to that portion from the Bong Recreation Area, now future access is secured. The Blue hiking trail and the horse trail are located here and hunting is allowed. 
The land consists of high-quality prairie, mature oak forest and wetland providing habitat for wildflowers, unique birds and other native species. The watershed also protects Wolf Lake and the Des Plaines River. 
The price is $1.2 million and the Bong Naturalist Association has raised most of in partnership with Wetlands America Trust, Inc., Ducks Unlimited, We Energies Foundation, LUMW Foundation, Knowles-Nelson Stewardship grant, North American Wetlands Conservation Act, National Turkey Federation and individual donors. They have until January 12, 2023, to raise the remaining $79,000. 
They are asking for your help. Please consider a donation in whatever amount you choose.  Consider asking your employer for a matching amount. Ask for money, or seek a grant from a conservation organization of which you are a member. Host a fundraiser or start a Go Fund Me campaign.  You can make a difference in saving this important property for future generations!
Your donation will be permanently recognized based on level of giving.  Bong Naturalist Association is a 501(c)(3) organization, gifts are tax deductible to the extent allowed by law.  For complete details visit: www.bongnaturalistassociation.org or call: 414-331-0065.
However you choose to participate in Giving Tuesday, thank you for your kindness and generosity!
Accepting Coats, Hats, Scarves, Mittens, New Socks
Bundle Up Kenosha!