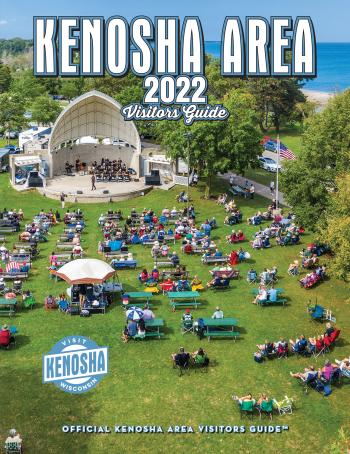 Visit Kenosha exists to promote the Kenosha Area as a travel destination, and thereby contribute positively to Kenosha County's economy. We promote, support, and provide resources to those businesses that support Kenosha's tourism industry and choose to work with us. We represent 150 local businesses and organizations – our Tourism Partners – that cater to travelers. These establishments are locally owned and operated, unique to the Kenosha Area, and/or of interest to visitors.

Visit Kenosha publishes the Official Kenosha Area Visitors Guide and its companion website VisitKenosha.com. Now available is our band new 2022 Kenosha Area Visitors Guide. After a year without a new guide, we are very excited and proud to have a new printed piece – and online edition – to share with all of you! The only publication of its kind in the community, the 2022 Official Kenosha Area Visitors Guide is the largest visitors guide printed by our organization to date, with more than 100 pages of useful information, itineraries, travel planning tips, maps, and details about Kenosha fun.
 
We are pleased to share that despite an ongoing pandemic, we have gained many new Tourism Partners since we published the 2020 Visitors Guide. Some are new businesses in the community, while others are just new to working with us.
 
We welcome these venues that have joined our Tourism Partner family since the last guide was published:  
Beef Jerky Experience Pleasant Prairie – over 100 varieties of hand-crafted Jerky, as well as many more snack items
Bellissima's Boutique – fashion accessories, designs, fashion jackets, hand bags, bath products, cosmetics, and beauty products
Blue House Books – woman-owned indie bookstore in Downtown Kenosha
El Camino Kitchen – a SoCal menu with a large variety for options including Mexican favorites, gourmet burgers, wings, and more
Faded Barbershop for Men – offering many services in Uptown Kenosha
Hot Mess Studios LLC – create splatter art and leave with your Jackson Pollock inspired masterpiece
Ivory Kenosha – boutique featuring women's apparel, shoes, and accessories
JJ's Boutique & Studios – boutique featuring pin up, rockabilly, and vintage clothing and accessories
Kenosha Lighthouse Studio at North Pier Lighthouse – privately owned, it's an artistic workplace and gallery
Kenosha Public Market – a year-round market on Saturdays; shop in person or shop online with KPM2GO and pick up your order at the market
KYC Bar & Grille – open to the public year-round at the Kenosha Yacht Club; home of The Island Deck
Lakeshore Pedal Tours – a fun multi-passenger, open-air, pedal-powered BYOB party with 3 or more stops
Nature's Gallery – an artist's studio and creative space with handmade local art available to purchase
Outpour Fairtrade Boutique – Fairtrade items include home décor and fashion products
Play Space – family-owned indoor facility provides walk-in open play for children crawling to 6 years old
RK News Hallmark – Hallmark brand cards, gifts, Keepsake Ornaments, gift wrap, as well as magazines, books, and more
Rustic's Subs – a Master Chef Sub House with made-to-order subs, sandwiches, and breakfast bagels
Shoe sold-ier Headquarters – new and vintage brand-name athletic shoes, hats, accessories
Springhill Suites by Marriott – an all-suite hotel at I-94 and Hwy. 50
Tavern on 6th – a bar with food and golf simulators in Downtown Kenosha
The Down Town'R Saloon – featuring Southwest cuisine and craft cocktails
The Vault Banquet Hall & Event Venue – two-story historic banquet facility built in 1928
University of Wisconsin-Parkside Ranger Athletics – Wisconsin's Division II University competing in the Great Lakes Intercollegiate Athletic Conference
 
Also joining the new partner list are these two venues that will be coming soon:
Pritzker Archives & Memorial Park Center – made up of the Pritzker Military Archives Center, community green space, Cold War Veterans Memorial, and Mission94 Firearms Education Center – will be completed over an estimated ten years. It's under construction and will open in phases, starting in 2023.
Coopers Uptown will occupy the former Jack Andrea store in Uptown Kenosha. Kenosha's hometown store and café will feature a wide array of gift items, Kenosha souvenirs, tobacco products, and comfort food at the old-fashioned soda fountain. Stay tuned for an opening date.

Also a shout-out to Lou Perrine's Gas and Groceries, which is opening a second location early this year at 8004 22nd Avenue. This location of the family-owned gas station will feature Einstein Bros. Bagels.
 
We encourage you to support these businesses, as well as all the others in the Kenosha Area Visitors Guide and on VisitKenosha.com. By doing so, you can be sure you are Shopping Local, Dining Local, and Playing Local!
 
Visit Kenosha has been Kenosha's official travel resource since 1986. Visit Kenosha is a private, 501(c)6 not-for-profit corporation.